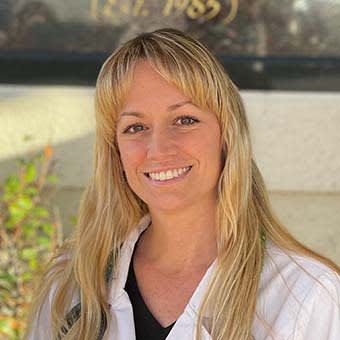 Dr. Tiffany Meyers
Dr. Tiffany Meyers, D.V.M. is a Phoenix, Arizona native and grew up in Kentucky. She attended Western Kentucky University where she got her bachelor's degree in biochemistry in 2005. After achieving her Doctor of Veterinary Medicine from Auburn University in 2011, she moved to California and began relief work for various hospitals all over Los Angeles and Orange Counties; this is when she began practicing at All Pets. After working as a relief doctor for 5 years in over 55 different hospitals, she decided that All Pets was the best hospital out of them all, and she wanted to stay as a permanent practice associate.
Dr. Meyers is the ambassador and one of the coordinators for the DVM2Kx, which is a group of veterinarians who graduated from 2010 and on, who get together quarterly for lectures and socializing. She is also a member of the Southern California Veterinary Medical Association (SCVMA), and regularly attends their meetings and lectures, so she can continually learn the most up-to-date medical information available and apply that knowledge to her patients at All Pets and elsewhere.
Her favorite areas of veterinary medicine include surgery, dentistry, cardiology, behavior, and hospice care for geriatric pets.
Outside of the hospital, Dr. Meyers owns a dog behavior consultation service, where she does house calls and helps teach pet owners how to use behavior training to train their pets and to become better pet parents. In her limited free time, Dr. Meyers enjoys spending time at the beach, going to Paso Robles for wine tastings, or simply relaxing at home.